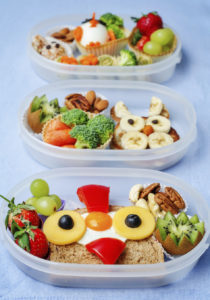 The nation's obesity rate has tripled in children since the 1970's. This is a serious problem. School lunches have long been blamed for the weight gain in children but simply changing out the French fries and pizza for broccoli and carrots is not the solution. Are there solutions?
Behavioral scientists are studying how to get children to eat healthier and they have several interventions that can have an impact in our schools.
All you can eat salad bars moved to the front of the cafeteria featuring locally sourced fruits and vegetable. Having a very visible salad bar increased the vegetable consumption by five times in schools that participated.
Give vegetables as snacks when they are the hungriest. Baby carrots were given before lunches and half of the children offered the carrots ate them! Wow!
Slicing up the fruit helped those children with dental appliances like braces.
Cool names like X-Ray carrots. Or putting a Elmo sticker on a piece of fruit. I'm not sure I'm a fan of this one….but the kids are getting marketed to already so maybe its not too bad to sway them toward food that is actually good for them.
I find it fascinating that we are studying what kids are eating…and why… and trying to make an impact on their future choices.
My favorite suggestion? Rainbow days! Children are encouraged to try at least three colors of fresh produce from the salad bar.
-Dr. Badaracco