Blog
'Tis the Season to be Jolly: Holiday Gift Ideas by ages and developmental stages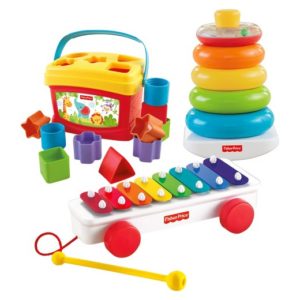 It's gift-giving season! We love pop culture, but if you are tired of GameStop gift cards or feeling a bit overwhelmed by the latest Disney movie or game system marketing, here's a list of ideas arranged by ages and developmental stages that I will be posting over the next several weeks.
0-3 months: Babies this age have perfect hearing and enjoy looking at faces and objects with contrasting colors. Music, mobiles, and bright posters are some age appropriate gift ideas. Infants self-soothe themselves through sucking- if you can figure out what your nephew's favorite type of binky is, wrap up a bunch-they are expensive and often mysteriously disappear.
3-6 months: Babies start to reach and grab at objects. They enjoy things big enough to hold onto and safe enough to put in their mouths- try bright colored teething rings and large plastic "keys." New cloth and vinyl books will likewise be appreciated; gnawed books don't make great hand-me-downs.
6-12 months: Around six months, babies begin to sit up. Intellectually, they begin to understand "cause and effect." Good choices of gifts include toys with large buttons that make things happen with light pressure. Toys which make sounds, play music, or cause Elmo to pop up will be a hit. For a nine-month-old old just starting to pull herself up to a standing position, a water or sand table will provide hours of entertainment in the upcoming year.
12-18 months: This is the age kids learn to stand and walk. They enjoy things they can push while walking such as shopping carts or plastic lawn mowers. Include gifts which promote joint attention. Joint attention is the kind of attention a child shares with you during moments of mutual discovery. Joint attention starts at two months of age when you smile at your baby and your baby smiles back. Later, around 18 months, if you point at a dog in a book, she will look at the dog then look back at you and smile. Your child not only shows interest in the same object, but she acknowledges that you are both interested. Joint attention is thought to be important for social and emotional growth. At 12 months your baby no longer needs to suck from a bottle or the breast for hydration. Although we don't believe mastery of a sippy cup is a necessary developmental milestone, it's important for your little one to get off the bottle. Alternatively, you can give fun, colored actual traditional plastic cups, which difficult to break and encourage drinking from a real cup.
18-24 months: Although kids this age cannot pedal yet, they enjoy riding on toys such as "big wheels" "Fred Flintstone" style. Dexterous enough to drink out of a cup and use a spoon and fork, toddlers can always use another place setting. Toddlers are also able to manipulate shape sorters and toys where they put a plastic ball into the top and the ball goes down a short maze/slide. They also love containers to collect things, dump out, then collect again.
Yes, older toddlers are also dexterous enough to swipe an ipad, but be aware, electronics can be a double edged sword— the same device which plays karaoke music for your daddy-toddler sing-along can be transformed into a substitute parent. The other day, a toddler was frightened of my stethoscope in the office. Instead of smiling and demonstrating to her toddler how a stethoscope does not hurt, the mother repeatedly tried to give her toddler her phone and told the child to watch a video. Fast forward a few years, and the mother will wonder why her kid fixates on her phone and does not look up at the family at the dinner table. Don't train an addiction! (more to come in following weeks)
Sarah Caudle