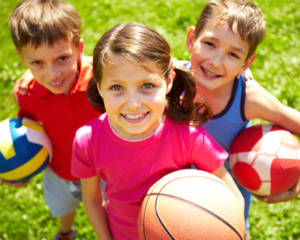 5-year-olds: Since 5-year-olds can hop on one foot, games like Twister® will be fun. Kids this age start to understand time. In our world of digital clocks, get your nephew an analog clock with numbers and a minute hand… they are hard to come by. Five-year-olds also begin to understand charts— a calendar will also cause delight. They can also work jigsaw puzzles with somewhat large pieces.
8-year-olds: Kids at this point should be able to perform self help skills such as teeth brushing. Help them out with stocking stuffers such as toothbrushes with timers. They also start to understand the value of money so kids will appreciate gifts such as a real wallet or piggy bank. Eight-year-olds engage in rough and tumble play and can play outdoor games with rules. Think balls, balls, balls- soccer balls, kick balls, baseballs, tennis balls, footballs. Basic sports equipment of any sort will be a hit. Label makers will also appeal to this age group since they start to have a greater sense of ownership.
10-year-olds: Fine motor skills are quite developed and intricate arts and crafts such as weaving kits can be manipulated. Give a "cake making set" (no, not the plastic oven with a light bulb) with tubes of frosting and cake mix to bake over the winter break. Kids at this age love doodling on the long rolls of paper on our exam table. Get your kid a few rolls of banner paper to duplicate the fun. Buy two plastic recorders, one for you and one for your child, to play duets. The instrument is simple enough for ten-year-olds or forty-year-olds to learn on their own. Ten-year-olds value organization in their world and want to be more independent. Therefore, a watch makes a good gift at this age. And don't forget about books: reading skills are more advanced at this age. They can read chapter books or books about subjects of interest to them. In particular, kids at this age love a good joke or riddle book.
Sarah Caudle, PA-C