Blog
Smartphones and Depression
New studies have linked smartphone usage in our teens to depression. Teens spend a lot of time on their smartphones talking to friends, surfing the Internet,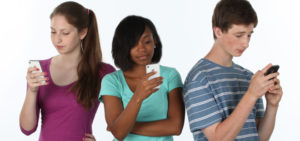 and posting their every move on social media. A recent survey even reported that half of teens say they're addicted to their mobile devices. While smartphones have their advantages for teens – like easy access to quick internet searches for class purposes – they also have their disadvantages. A major drawback of smartphones is that they offer constant access to social media sites, where teens might face social media victimization, or cyber bullying which can cause depression.
Many recent studies have revealed a clear link between social media victimization and depression. Almost 45% of teens have been the victim of cyber bullying at some point. More than 2 million adolescents have experienced depression in the last year because of social media. Teens who have suffered cyber bullying are almost twice as likely to commit suicide
Here are some smart strategies to help promote safe space for teens to socialize using smartphones:
Check-in: Look on your teen's social media pages to see who and what they're following. Have an open conversation with them if you notice negative posts in their newsfeed or they seem upset for an unknown reason.
Educate: Talk with your teen about the permanency of things posted online as well as the many people who will see their posts.
Challenge them: Encourage your teen to be a positive influence on social media using their accounts for good interactions.
-Sarah Caudle, PA-C