Blog
Measles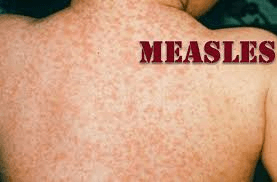 You've probably seen the news about measles in the US. The CDC is reporting over 100 cases this year and they are raising concerns about its spread. But have you been watching what is going on in Europe? According to the World Health Organization (WHO), they've hit a record high with more than 41,000 people infected in the first 6 months of 2018. Thirty seven people have died. Last year there were 23,927 cases for the year, in 2016 the case number was 5,273. Experts are saying that the incredible rise is due to less people getting vaccinated. Measles is very contagious. It's spread by coughing and sneezing. Some people will have mild cases of fever, runny nose, rash and a cough but others may have more serious complications including infection of the brain, seizures, pneumonia or liver infection. The MMR vaccine helps to prevent measles. We live near an international airport and have travelers from Europe arriving hourly. A lot of people think that we can treat measles with an antibiotic if it happens to their child— but measles is a virus and there is not a 'cure' for it.
Vaccination is the only way to protect yourself and your children.
Info from BBC.com Health.