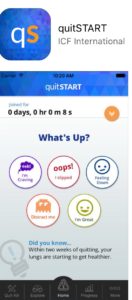 Did you know that starting to smoke when you are a teenager is much worse than when you are older? It's not just more years of the toxins in your body, it's the fact that when you start younger, it's more likely you will become addicted.
Within days to weeks of trying cigarettes, teens will have a strong urge to smoke again. In fact, they may become anxious or irritable if they don't. They're addicted.
A whooping 47% of teens that try cigarettes will find they crave them. Most will try to stop and will fail in their attempts.
There are 1300 deaths in the US from cigarette smoking per day. And for every death, there are 30 people that suffer from the effects of smoking –chronic lung disease for instance.
What can you do?
QuitSTART is a free app geared toward teens based on input from smoking cessation experts. Teens provide information about their smoking history and the app gives them tips and challenges to help them stop. The app monitors progress and notes achievements. It sounds pretty cool.
More tips for smoking cessation can be found at http://www.smokefree.gov
Good luck!
Dr. Badaracco