Blog
Introducing the Kitten Scanner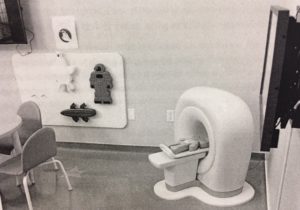 Mr. Elephant got good news. It turns out the reason he had a bellyache was simple. When he swallowed that last gulp of water, he accidentally swallowed some fish with it. His young doctor showed him the image on the new scanner.
UCSF Children's hospital has a new Kitten scanner. This scanner is located in the waiting room of the radiology department and it allows children to touch and play with a device similar to a real CT or MRI scan. This fun experience makes the child's upcoming scan less intimidating.
Four characters can be scanned. An elephant, a chicken, a robot and an alligator. Each have a story and each 'patient' has images that pop up once they are scanned. The "plush patients" may go with the child when they are taken back for their own scan. So far, the device has been well received by both patients and staff.
Love pediatric medicine!!
Susan Badaracco MD, author of "The Oath"