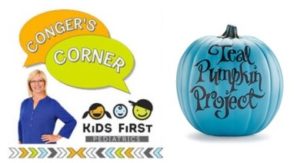 Got food allergies?  This makes trick or treating a dicey event for your child.
Many Halloween candies and treats contain peanuts, tree nuts, milk, soy or wheat (the most common allergens).  However, Halloween and dressing up can be a fun time.  To let your child experience the dress up fun but avoid dangerous treats, try setting up treat "exchanges" with friends, or giving them to the "Halloween Fairy" or to your local dentist who may give a non-candy treat in exchange for your child's hoard of candy!
In addition, the Teal Pumpkin Project (http://www.foodallergy.org/teal-pumpkin-project) is promoting safe trick-or-treat options by encouraging non-food items (like finger puppets, whistles, glow sticks, pencils, bookmarks and stickers or stencils) to be given out for treats.  The site also has a map where you register to trick or treat at houses that participate.
Other alternatives would be to plan parties where treats can be controlled.  However, whatever option you choose, make sure that your child understands what will happen with his 'candy'.  Giving kids clear guidelines before any event allows easier transitions…(yes mom, I understand you are giving away all of my treasures that I collect tonight)…with less meltdowns!